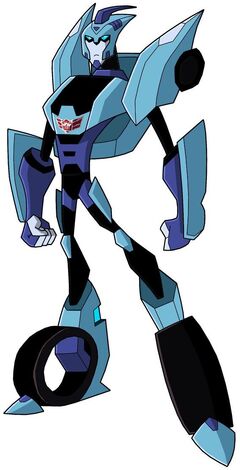 Blurr (ブラー, Burā) is a bot of action. And words. A lot of words. A lot of words said at high speed.
An intelligence agent in the Cybertron Elite Guard, Blurr tends to barrel ahead with whatever he's doing and simply expects everyone else to keep pace... be it on a mission or in simple conversation. His motor-mouth and penchant for tangents tend to leave others in the dust, forcing them to ask him to repeat things.
Appearance and Biography
Edit
Voice actor: Rob Paulsen (English), Takahiro Sakurai (Japanese)
Blurr never stops moving. It's a habit he's gained over centuries of working as an undercover agent for the Autobot Elite Guard. Constant mobility is the best way to avoid detection by Decepticon agents. He is used to remaining in vehicle mode for months or years at a time – as long as it takes to complete his mission, learn what he needs to know, and escape. Unfortunately, because he spends so much time alone, he's not really used to talking so others can understand him.
It is unknown whether his veichle mode is Cybertronian-based or Earth-based veichle mode, but he indeed has the veichle mode of a Race Car.
Attributes:
Edit
Possibly even faster than Bumblebee.
Master spy.
Reaction time is too fast to measure.
Personality
Edit
Relationships
Edit
Friends/Allies
Edit
Kid Flash
Mas y Menos
Nanosec
Weapons & Abilites
Edit
Blurr is fast. Incredibly fast. So fast he even speaks fast. In vehicle mode, he can outpace Bumblebee even with his turbo boosters. In robot mode, he can move fast enough to run up walls, and move like a blue blur around his foes. The fin on his head is not for decoration alone, either - in line with his role as an intelligence officer, he can use it to pick up all manner of signals.
Appearances
Edit
Notes & Trivia
Edit