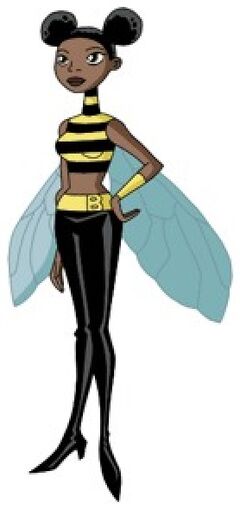 Karen Beecher (カレン・ビーチャー, Karen Bīchā), also known as Bumble Bee (バンブルビー, Banburubī) is a former H.I.V.E. Academy student and a founding member and leader of the Titans East.
Appearance
Edit
Voice actor: T'Keyah Keymah (English), Shigueru Masuoka (Japanese)
Bumble Bee is a human/bee hybrid and an African-American hero typically depicted wearing red lipstick with her hair pulled back into two pigtails. She has a slim build and she wears a black and yellow turtleneck costume revealing her belly. She wears a yellow belt and long, black pants with her shoes built in, as well as long, yellow arm bands. Being half-bee, she has large, white wings strong enough to lift her into the air and fly at fast speeds.
Attributes:
Personality
Edit
Bumble Bee is one of the "cockiest" characters. She can be a little bossy with her teammates but deeply cares for them. Bumble Bee is also extremely intelligent and she tries too hard. She is observant, kind, and very open-minded. Bumble Bee made the strongest bond with Aqualad first, but they fight less than she does with Speedy. She is cooperative and patient. Bumble Bee has a very independent and cocky personality, and a very confident and outgoing attitude. Being very independent, she doesn't like being told what to do, such as when Cyborg tells her what to do in "Wavelength". On a more comical note, Bumble Bee's pigtails tend to react to her emotions, sometimes going erect when annoyed, and shooting upwards when surprised. Más y Menos are also shown hiding in the pigtails in the episode For Real, when Control Freak surprises them in the Ops as soon as they arrive.
Relationships
Edit
Friends and Allies
Edit
Powers and Abilities
Edit
Karen's wings and powers appear to be a natural feature.
Weaknesses
Edit
Appearances
Edit
Notes & Trivia
Edit