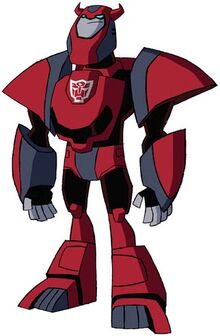 Cliffjumper (クリフジャンパー, Kurifujanpā) have never made it as a spy, due to his temper. He does excel at collecting data from those who did, however, and presents this information to his superiors. Given the data that passes in front of his optical sensors, he's pretty high-strung regarding potential Decepticon attacks, and always ready for a brawl.
Appearance
Edit
Voice actor: Dwayne Johnson (English), Atsushi Imaruoka (Japanese)
Because of his temper, Cliffjumper has never been much of a spy. Even though he works in Intelligence, he doesn't interact much with the enemy. Instead, he collects information from field agents and finds the important bits for his superiors. Of course, knowing everything there is to know about the Decepticons makes him a little tense, which is why he's always ready for a fight.
His alternate modes is a Cybertronian car.
Attributes:
Personality
Edit
Relationships
Edit
Friends/Allies
Edit
Weapons & Abilites
Edit
Cliffjumper's body type is similar to Bumblebee and Wasp, so it is likely that he has Stingers like both of them. Also, given how in Autoboot Camp the cadets are named after their abilities or things they did early in their cadet training, it's possible that Cliffjumper "earned" his name by jumping cliffs, so he may have above-average agility (which again seems to be an ability shared by Bumblebee and Wasp).
Cliffjumper worked with Sentinel Minor at the Cybertron boot camp. He was listening wordlessly to Sentinel's complaints about his latest recruits, and casting aspersions on Ultra Magnus's mental state. When asked about the echo that Sentinel was hearing, he gave no reply. Shortly after that, Cliffjumper hauled away the cadet Wasp, who had been arrested for being a Decepticon spy. (Too bad they got the wrong guy.)
Appearances
Edit
Notes & Trivia
Edit
Ad blocker interference detected!
Wikia is a free-to-use site that makes money from advertising. We have a modified experience for viewers using ad blockers

Wikia is not accessible if you've made further modifications. Remove the custom ad blocker rule(s) and the page will load as expected.