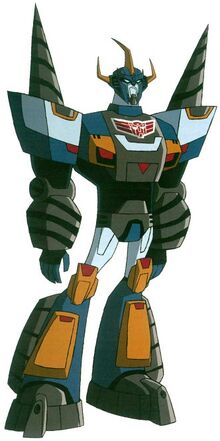 Dai Atlas (ダイアトラス, Dai Atorasu) is a war hero, pure and simple. A former fencing student of Sensei Yoketron, general of the Cybertron Elite Guard and the right hand of Ultra Magnus himself, he has achieved more in his life than one could really ask from a single 'bot.
Appearance & Biography
Edit
Voice actor: Not Known (English), Not Known (Japanese)
Attributes:
Edit
Personality
Edit
Relationships
Edit
Friends/Allies
Edit
Weapons & Abilites
Edit
Before an Outbreak War began, Dai Atlas was a socialite with no particular interest in anything, and was really only notable for being a fencing rival of Star Saber. At some point, he began training at Yoketron's Cyber-Ninja dojo, and when the war broke out he wasted no time in signing up. Proving to be a more than able Autobot warrior, Dai Atlas racked up promotion after promotion, eventually becoming Elite Guard general and commander of all Autobot ground forces.
A holographic bust of Dai Atlas sat in Yoketron's chambers, alongside those of other star pupils.Five Servos of Doom
Following the end of the war, Dai Atlas retired from military service to focus on rebuilding the destroyed Cyber-Ninja Dojo. He was also training a young ninja called Drift.
Dai Atlas appeared in person to wave a flag in celebration of Optimus Prime and his crew, when they returned to Cybertron with the captured Megatron and several other Decepticons.
Appearances
Edit
Notes & Trivia
Edit