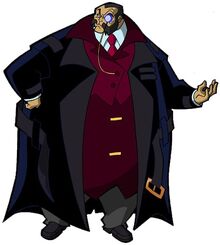 Darius Sumdac (ダライアス・サムダック, Daraiasu Samudakku) is the adoptive uncle of Sari Sumdac and the older broter of Isaac Sumdac, who served as the vice C.E.O. of Sumdac Systems.
Appearance & Biography
Edit
Voice actor: David Sobolov (English), Hideyuki Tanaka (Japanese)
He has black hair and black eyes.
Attributes:
Personality
Edit
Relationships
Edit
Friends/Allies
Edit
Weapons & Abilites
Edit
During his time as Vice C.E.O. of Sumdac Systems, Darius utilized his brother's company for a variety of illicit purposes. Although the full extent of his operations is thus far unknown, Darius has, throughout the series, shown to have a network of cameras to spy on Isaac or Sari (including one on Serling); employed private soldiers; run a weapon-production and smuggling operation (prohibited under Sumdac Systems's charter) kept under the guise of a recycling program; supplied criminal groups such as H.I.V.E. gangs with said weapons; and perhaps most importantly, stolen plans for Space Bridge technology.
Appearances
Edit
Notes & Trivia
Edit