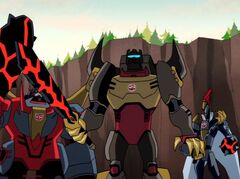 The Dinobots (ダイノボット Dainobotto) are violent and primitive Transformers that began their existence as animatronic theme park exibits, until an AllSpark Key upgrade granted them sparks. Imbued with a range of combat abilities by Megatron, they bear the Autobot insignia, though originally they have no interest in taking part in the Earth conflict. All they want is to live on their island, with the occasional trip to the mainland to beat the tar out of someone.
The Dinobots are:
Appearances
Edit
Notes & Trivia
Edit
Ad blocker interference detected!
Wikia is a free-to-use site that makes money from advertising. We have a modified experience for viewers using ad blockers

Wikia is not accessible if you've made further modifications. Remove the custom ad blocker rule(s) and the page will load as expected.