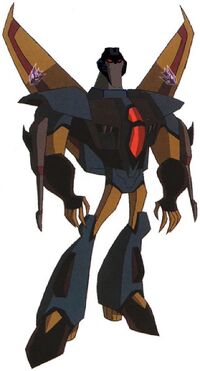 Dirge (ダージ, Dāji), the Greedy Decepticon is a seeker, with implacable greed. No altitude is high enough, no amount of fuel is sufficient, and no grab for power will ultimately satisfy him. He lives only for what he doesn't yet have. He and Thrust after the defeat of Starscream, and two of their fellow seekers captured by the Cybertron Elite Guard, and they now serve as Swindle's bodyguards—though Dirge has by now seen plenty of space swag that he wants a lot more than another shift on guard duty!
Appearance & Biography
Edit
Voice actor: Tom Kenny (English), Jin Yamanoi (Japanese)
Greedy, grasping, and never satisfied, Dirge always hungers for more. More power. More fuel. More altitude. Whatever it is, Dirge wants all of it. He's the kind of Decepticon who reveals the worst aspect of that fighter ace's ambition-- the inability to ever be content with what he has.
As a Seeker, he has no Cybertronian-based veichle mode, but he has an Earth-based veichle mode of a Harrier Jet (based on Starscream's jet mode.)
Attributes:
Personality
Edit
Relationships
Edit
Friends/Allies
Edit
Weapons & Abilites
Edit
Like the other Seekers, he possess incredible speed and firepower, enough to put even Megatron off balance. However, the incomplete personalities of most of the clones mean that they are generally less effective than Starscream (if even more entertaining to watch).
Appearances
Edit
Notes & Trivia
Edit