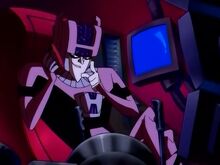 Henry Masterson (ヘンリー・マスターソン, Henrī Masutāson), also known as The Headmaster (ヘッドマスター, Heddomasutā), a disgruntled Sumdac Systems employee who can take control of robots by replacing their heads with his Headmaster unit. He's a gigantic dork who plays too many video games and seems to have crossed the line between reality and fiction. His vocabulary is littered with slang from the internets, with terms like "n00bs" and "Total ownage!"
Appearance & Biography
Edit
Voice actor: Alexander Polinsky (English), Kōsuke Okano (Japanese)
The Headmaster is a disgruntled Sumdac employee, who sought revenge and profit by taking control of one of the Autobots and sending him on a rampage.
Personality
Edit
Relationships
Edit
Friends and Allies
Edit
Powers and Abilities
Edit
Appearances
Edit
Notes & Trivia
Edit
Ad blocker interference detected!
Wikia is a free-to-use site that makes money from advertising. We have a modified experience for viewers using ad blockers

Wikia is not accessible if you've made further modifications. Remove the custom ad blocker rule(s) and the page will load as expected.