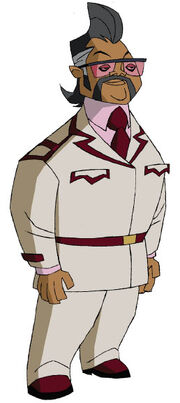 Porter C. Powell (ポーター・C・パウエル, Pōtā C. Paueru) is one of the Chairman of the Board of Sumdac Systems, CEO of Powell Motorworks, publisher of the Detroit Powell Press... and also a major financier of Biotech Unbound, one of Sumdac's chief rivals. This should not be a great shock: As an arch-capitalist of the sleazy, profit-at-any-price type, Powell is not above working with the villainous or demented to make big bucks.
Basically, he's a rich jerk. His mullet, however, is truly inspirational.
Appearance & Biography
Edit
Voice actor: Bumper Robinson (English), Tōru Ōkawa (Japanese)
Personality
Edit
Relationships
Edit
Friends and Allies
Edit
Powers and Abilities
Edit
Appearances
Edit
Notes & Trivia
Edit
Ad blocker interference detected!
Wikia is a free-to-use site that makes money from advertising. We have a modified experience for viewers using ad blockers

Wikia is not accessible if you've made further modifications. Remove the custom ad blocker rule(s) and the page will load as expected.