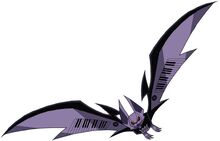 Ratbat (ラットバット, Rattobatto) is a Decepticon in the service of Soundwave. Transforming into a keytar, he aids in Soundwave's manipulations of sound and data transmission, and is capable of broadcasting on multiple frequencies all at once. This allows Soundwave to take total control over the minds of any human or Autobot that's unfortunate enough to hear Ratbat's music. Although built by Soundwave, Ratbat possesses a spark due to bearing a tiny sliver of the AllSpark.
Appearance & Biography
Edit
Voice actor: Not Known (English), Not Known (Japanese)
While he has no vehicle mode, he still as an alternate mode of a Keytar.
Attributes:
Personality
Edit
Relationships
Edit
Friends and Allies
Edit
Weapons and Abilites
Edit
Appearances
Edit
Notes & Trivia
Edit
Ad blocker interference detected!
Wikia is a free-to-use site that makes money from advertising. We have a modified experience for viewers using ad blockers

Wikia is not accessible if you've made further modifications. Remove the custom ad blocker rule(s) and the page will load as expected.