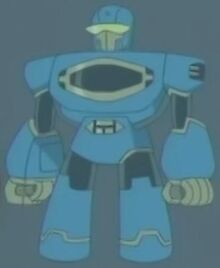 Sound Wave drone is based off of the designs and patents of Isaac Sumdac, and thanks to Darius Sumdac, Porter C. Powell released the hottest toy of the Christmas season. He sings, he dances! He does it all! He's available for only $19.95! Unfortunately these toys were a little too close to the design of the original Soundwave, and thus ended up becoming an army of drones in his service.
Appearance & Biography
Edit
Voice actor: Jeff Bennett (English), Nobuo Tobita (Japanese)
Attributes:
Edit
Personality
Edit
Relationships
Edit
Friends and Allies
Edit
Weapons and Abilites
Edit
Notes & Trivia
Edit
Ad blocker interference detected!
Wikia is a free-to-use site that makes money from advertising. We have a modified experience for viewers using ad blockers

Wikia is not accessible if you've made further modifications. Remove the custom ad blocker rule(s) and the page will load as expected.