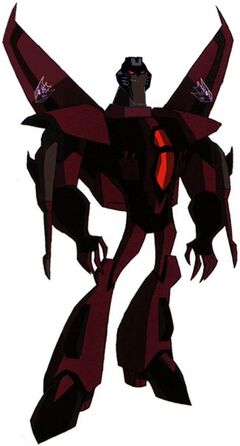 Thrust (スラスト, Surasuto) can't stand how much taller and straighter Dirge is is than his self! And why should Swindle be the one with all the best weapons? And why was he and all the other seekers came a part of this anyway, huh, huh?! The more he and Dirge travel the universe as Swindle's bodyguard duo, the more Thrust finds to infuriate him in observing all the cool stuff and life advantages everybody else got over him. It's not fair! He didn't ask to be working for Swindle after the failiure of Starscream, and he certainly didn't ask to be a Decepticon that is filled with envy—all the really good ones were already taken by then! Like lying—he could SO do a better job of lying if that slaghead Ramjet hadn't hogged it first!
Even that inferior template, Starscream, cannot comprehend his majesty, mistaking his obvious superiority for simply being a pain in the crankcase.
Appearance
Edit
Voice actor: Alexander Polinsky (English), Masaya Onosaka (Japanese)
As a Seeker, he has no Cybertronian-based veichle mode, but he has an Earth-based veichle mode of a Harrier Jet (based on Starscream's jet mode.)
Attributes:
Personality
Edit
Relationships
Edit
Friends/Allies
Edit
Weapons & Abilites
Edit
Like the other Seekers, he possess incredible speed and firepower, enough to put even Megatron off balance. However, the incomplete personalities of most of the clones mean that they are generally less effective than Starscream (if even more entertaining to watch).
Appearances
Edit
Notes & Trivia
Edit
Ad blocker interference detected!
Wikia is a free-to-use site that makes money from advertising. We have a modified experience for viewers using ad blockers

Wikia is not accessible if you've made further modifications. Remove the custom ad blocker rule(s) and the page will load as expected.