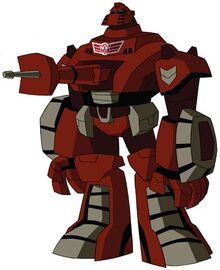 Warpath (ワーパス, Wāpasu) is a member of the Cybertron Elite Guard who reported to Master Yoketron. He's got a rather surly, confrontational attitude, and a big gun. In his chest.
Did you know that he's dating Flareup?
Appearance & Biography
Edit
Voice actor: David Kaye (English), Atsushi Imaruoka (Japanese)
Attributes
Edit
Personality
Edit
Warpath is a big, tough talking Elite Guard soldier. He also has a tendency to take the law into his own hands, and has been reprimanded numerous times for being a bit too rough with the prisoners in his care. He uses onomatopoeic words in his sentences, ("Bam, pow!"). He viewed pacifists as cowards and weaklings, and believes them to be as terrible as Decepticons.... until Sari and the Titans taught him better during the encoutner with the Decepticons. He shows a softer side with Sari and the Titans.
Relationships
Edit
Friends/Allies
Edit
Weapons & Abilites
Edit
Warpath wields a chest-mounted laser-cannon, a right shoulder-mounted rocket-launcher, a left shoulder-mounted plasma-chaingun, a right arm-mounted flail, and a left arm-mounted sonic-cannon.
Appearances
Edit
Notes & Trivia
Edit